Start your car and set out for the lush green Galilee, where everything is close by and accessible, yet totally cut off from the hustle and bustle …
Visit the Hula Valley to watch the migrating birds and listen to the rushing rivers at the foot of Mt. Hermon, in this green island of tranquility and calm – a true pastoral paradise.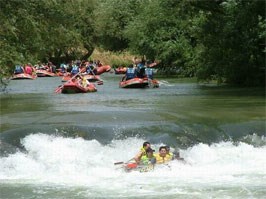 Kfar Blum Kayaks - River Rafting
Kfar Blum and Beit Hillel Kayaks is located within a short walk from the hotel. The activities offered: Rafting/kayaking on a route suitable for the family or rafting/kayaking on a longer, adventurous route. Top Rope, Israel's largest adventure park: a 12-meter-high artificial-stone climbing wall, rappelling, a huge zip-line over the Jordan river, a large Himalayan bridge and additional rope bridges of different sizes, target archery and much more. Tel:
1700-50-66-11
The following attractions are located 10-30 minutes from the hotel by car
Free Dinner
23.01.2023 - 27.04.2023
The Galilee and we are waiting for you with a ...
from -
₪ 812
for couple per night