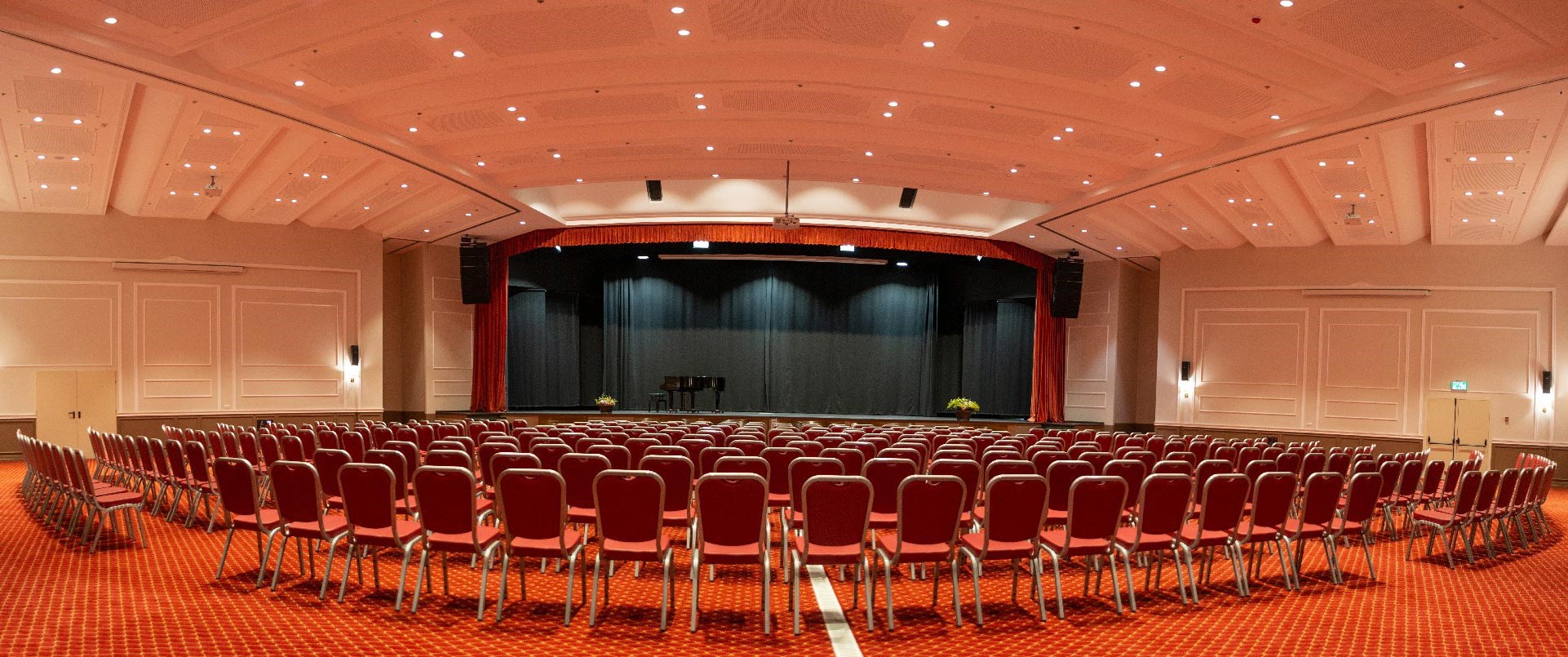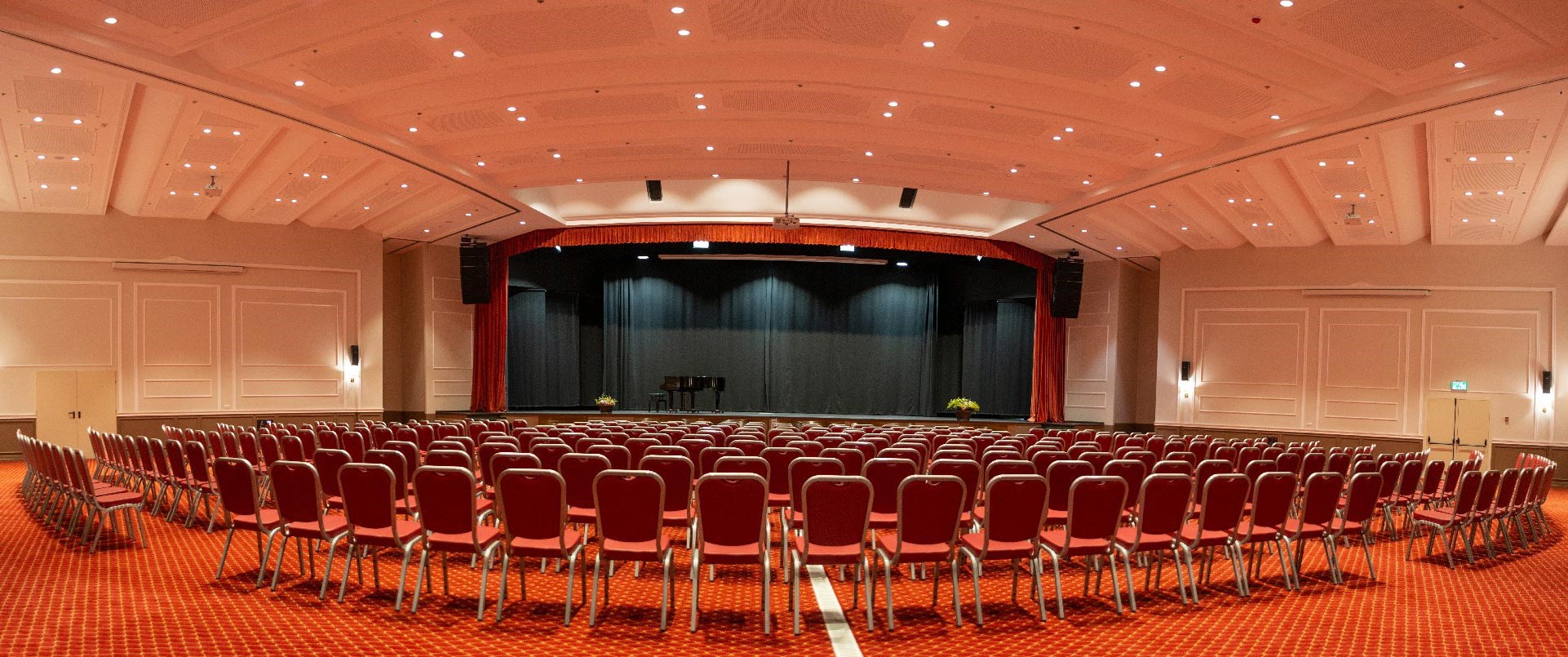 'Opera', an impressive concert and conference hall has recently been inaugurated in the Pastoral complex. Located at the heart of 2,600 square meters of grounds, it has been designed in a Tuscan style, blending in naturally against the Galilean backdrop and the tranquil green spaces that surround the hotel.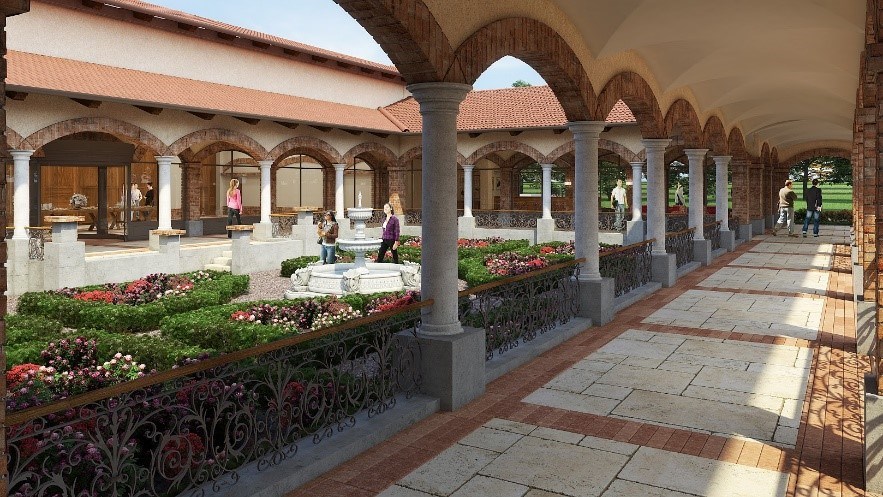 On your way to the 450-seat hall, you will pass through the "Cascina", an Italian-style courtyard comprising a well-tended garden, surrounded by a colonnade, with a fountain at its center. The hall complex looks out over breathtaking views of the Golan Heights, the Hermon and the Naftali Mountains. Advanced technology, a large foyer, a drinks bar and an atmosphere of sheer elegance will undoubtedly enhance a special experience that is reserved exclusively for those whose souls soar on listening to a celestial concert, a fascinating lecture or a spectacular show.
Specification Opera Hall
The Opera hall offers flexible seating arrangements, including secondary halls, suitable for groups of different sizes.
Possible seating arrangements:
• theater layout - up to 450 people
• seating around tables in the hall - up to 250 people
• seating around tables in the hall and in the foyer, without a dividing partition - up to 450 people
• standing room - up to 800 people
The hall can be divided by two acoustic partitions to create three separate areas: a central one of 270 square meters, and two at the sides, of 90 square meters each. With the partition walls folded away, a single open space of 840 square meters is created, which can be adapted for use as a fair or large-scale exhibition.
The spacious foyer is surrounded by conference rooms, an extensive drinks bar and a kitchen with capacity to serve refreshments and meals for 450 people, either as a reception or a gala-style dinner.
The hotel's chef serves up two catering options: a reception with hot and cold refreshments in the foyer; and gala dinners for up to 450 people. Both dairy and meat menus are available, all kosher, using fine, locally-sourced ingredients to create a rich and tempting Galilean menu. Guests of the Opera are invited to enjoy an extensive drinks bar overlooking the foyer.
The complex is fitted out with state-of-the-art technology and modern equipment, including advanced amplification systems, screens, projectors and lighting controlled from a central control room, as well as projection and set screens.
In the wings of the stage there are rooms for use by artists and staff, storage spaces, lighting systems, sound and sophisticated screening. The artist rooms also offer private parking.
The building was designed by architects Gadi Rubinstein (Alefbet Planners) and Noam and Rachel Hatuka (from M.O.D.E architects and interior design). Construction of the complex was planned by Dotan Reichert (Reichert Consulting Engineers). Professional consultation (for the hall, stage systems and equipment) was carried out by architect David Breslevy.
The floor spreads over 370 square meters. For a reception or sponsors' exhibition, partition walls can be folded away between the foyer and the hall to create a shared space of 840 square meters.
Elevation: 95 cm
Stage area: 12.5 meters
Stage depth: 8 meters
Electronic frontal screen
Back door stage entrance for sets, scenery and equipment
A range of advanced technical equipment is at your disposal, including amplification systems, screening (screens and projectors) and lighting, controlled from a central control room. There are also projection and set screens, an equipment storeroom and a set storeroom that is directly accessible via a raised loading ramp.
For efficient laying out and putting away, the hall level has stackable chairs, folding dining tables, and folding display boards.
Sketch of the Opera Hall
Other campus halls